P-47D Thunderbolt "D4" da FAB - Tamiya 1/48
IntroduÇão
Este kit foi montado dentro do "Group Build 11" da Webkits, cujo tema foi "FAB", ou seja, aviões utilizados pela Força Aérea Brasileira.
Sempre tive planos de fazer um P-47D utilizado pela FAB na Itália. Este Group Build me pareceu a ocasião ideal para faze-lo: vários participantes iriam montar P-47s brazucas, desta forma a troca de informações seria maior e a chance de fazer burradas, como pintar ou instalar uma peça errada, menor.
Sendo a "quarter scale" (1/48) minha escala preferida, escolhi o kit da Tamiya para esta montagem. Em princÍpio, existem kits na 1/48 Revell/Monogram, Academy, Hasegawa e Tamiya. Embora todos tenham seus prós e contras, o kit Tamiya É o mais recente e, de forma geral, o mais acurado. Um ponto, no entanto, É importante: o kit que utilizei, item 61090, não vem com a barbatana dorsal, que foi utilizada em muitos aviões da FAB (inclusive no "D4", como veremos mais à frente). Para quem quiser usar um kit Tamiya e o avião a ser feito tiver a barbatana, aconselho a compra do kit do P47M (item 61096). Externamente idêntico ao P-47D, este kit traz a barbatana dorsal, ao contrário do kit que usei.
Por fim, quero dizer que não vou colocar, neste artigo, a mesma introdução sobre o avião que fiz em artigos anteriores. Antes, indico a quem quiser saber mais sobre o P-47 e seu uso pela FAB o site http://www.jambock.com.br, do amigo Vicente Vazquez. Vicente, assim como outros amigos da Webkits, colaborou bastante durante toda a montagem deste e de vários dos kits dos P-47s montados neste GB. Vazcon, como costumo chama-lo, foi nosso "consultor oficial do GB", e com certeza tem muito dele no resultado que eu e os amigos do GB 11 alcanÇamos.
O Avião e seu piloto
O Thunderbolt que farei representa o avião da esquadrilha verde, código "D4", pilotado pelo Segundo Tenente Aviador Rui Barbosa Moreira Lima durante 94 missÕes de guerra na Itália, no perÍodo de 06 de novembro de 1944 a 01 de maio de 1945. O P-47D "D4" possuía pintura em Olive Drab (superior) e Neutral Gray (inferior), com o leme pintado nas cores verde e amarela e as marcações da FAB na fuselagem e nas asas. O emblema "Senta a Pua", que se tornou símbolo do 1º Grupo de Aviação de Caça da Força Aérea Brasileira, à época em que foi pintado não possuía a "nuvem de flak", que foi pintada posteriormente.
Para quem quiser saber mais sobre a saga dos pilotos da FAB na Itália, recomendo a leitura do livro "Senta a púa!", escrito pelo hoje Brigadeiro Rui Moreira Lima. Um pouco da história destes jovens brasileiros está lá, um tributo àqueles que lutaram no maior conflito da história humana.
A Montagem
Bem, o kit utilizado, como já dito acima, foi o P-47D Thunderbolt 1/48, item 61090 da Tamiya. Para ajudar, contei com alguns livros, a saber: o "Modelling the P-47", do Brett Green, o livro da Adler "FAB na Segunda Guerra Mundial", o qual veio com decais para aviões da FAB e ainda o livrinho de instrução dos decais "Jambock", que acompanha os decais FCM.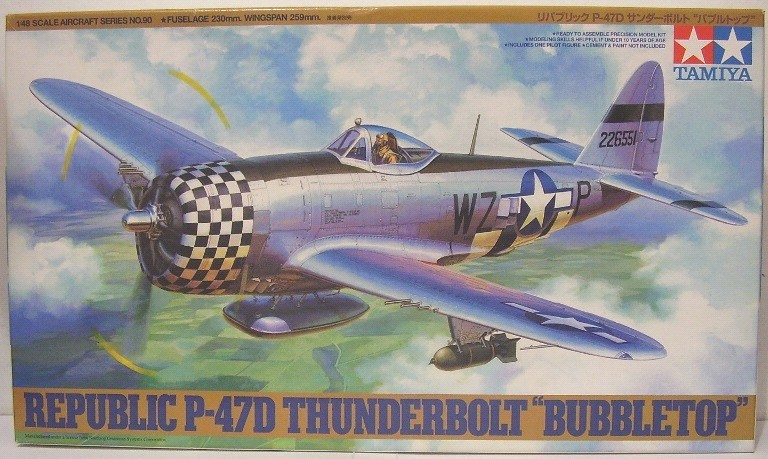 Kit do P-47D Tamiya
Osprey "Modelling The P-47"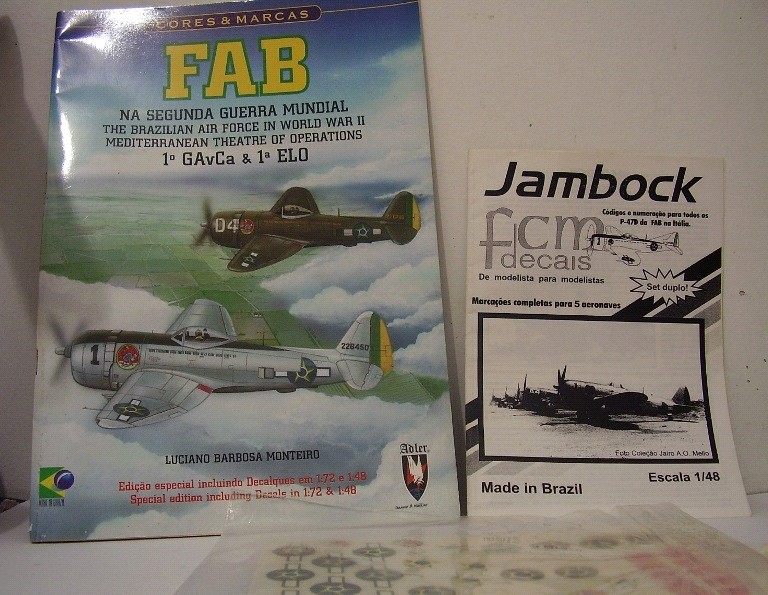 Livro da Adler e Decal FCM
O kit foi montado praticamente direto da caixa, à exceção dos decais e de um assento em resina, adquirido aqui no Mercado de Pulgas da Webkits.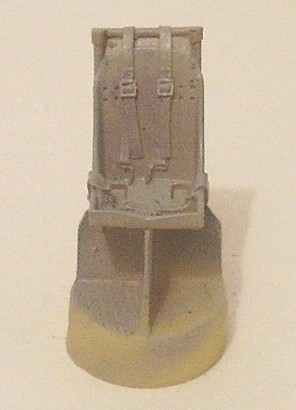 Assento de resina jÁ com primer
Comecei a montagem do kit pelo cockpit. A cor do cockpit já é um diferencial: É comum o cockpit de aviões americanos da Segunda Guerra ser o "interior green", um verde meio cor de abacate, amarelado. No caso dos P-47s, era utilizado um verde um pouco mais escuro, similar ao JN Green da Tamiya (XF-11). Pintei-o com este tom e, depois de esperar a secagem da tinta, adicionei um pouco de branco ao verde escuro (XF-11), para torna-lo mais claro, e apliquei nos painéis centrais, Na foto não dá para ver, mas deu um efeito legal.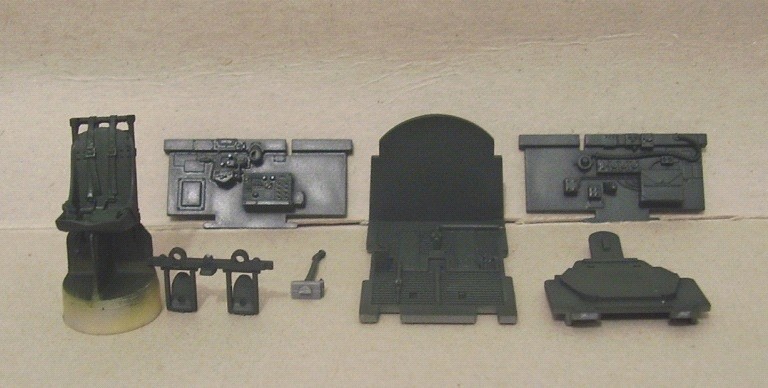 Peas do cockpit pintadas em verde escuro (XF-11)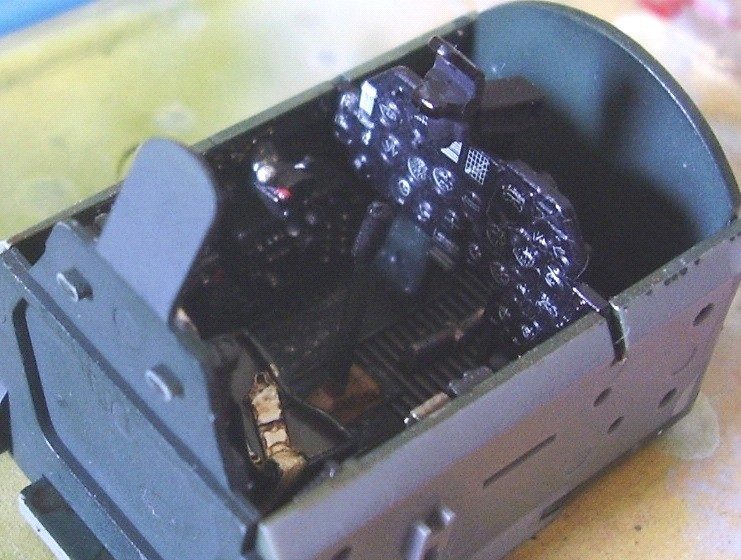 Cockpit montado
Pintei também algumas peças pintei com o XF-4 "Yellow Green" da Tamiya, onde era aplicado o zinc yellow chromate (um primer anti-ferruginoso).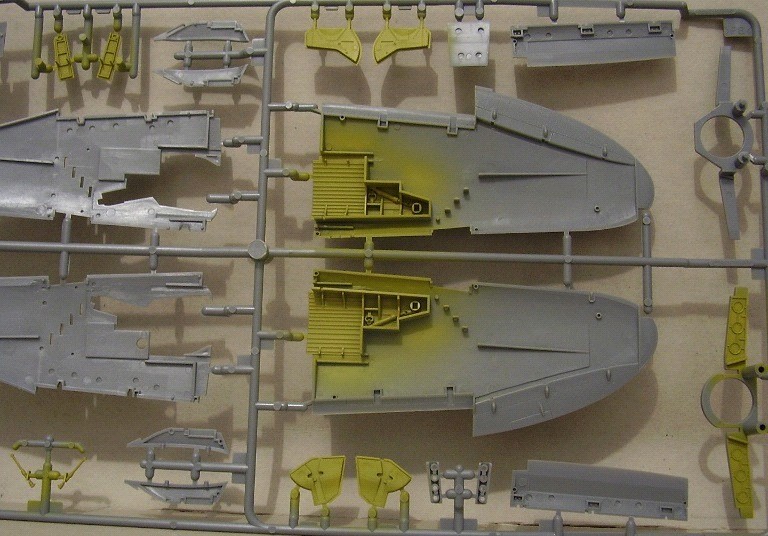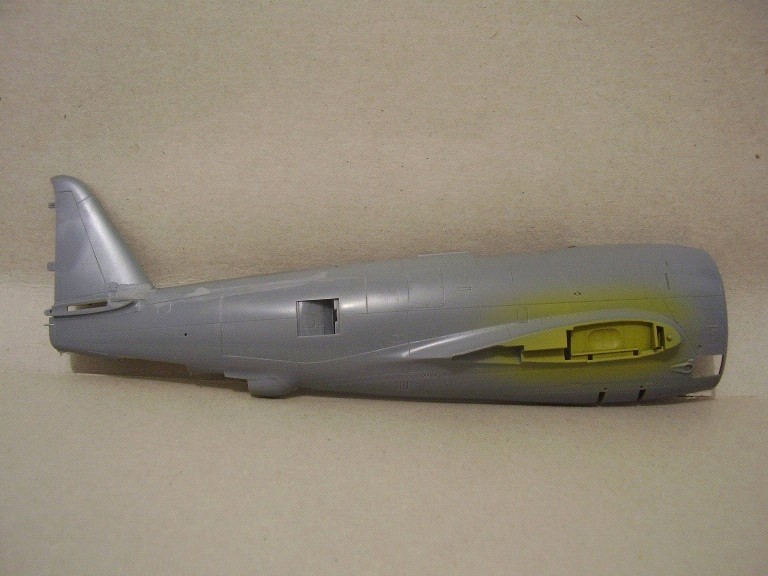 Peças e partes pintadas em Yellow Zinc Chromate com a tinta Tamiya XF-4 "Yellow Green"
Neste ponto, houve uma grande discussão entre o pessoal do GB, sobre a montagem do dorso do P-47 Tamiya. Ele vem em uma peça separada, pois isto possibilita à Tamiya usar a mesma fuselagem para o P-47 Razorback. Chegamos a um consenso de que era melhor colar cada peÇa na respectiva metade da fuselagem, ao invés de colar uma na outra e colar na fuselagem depois.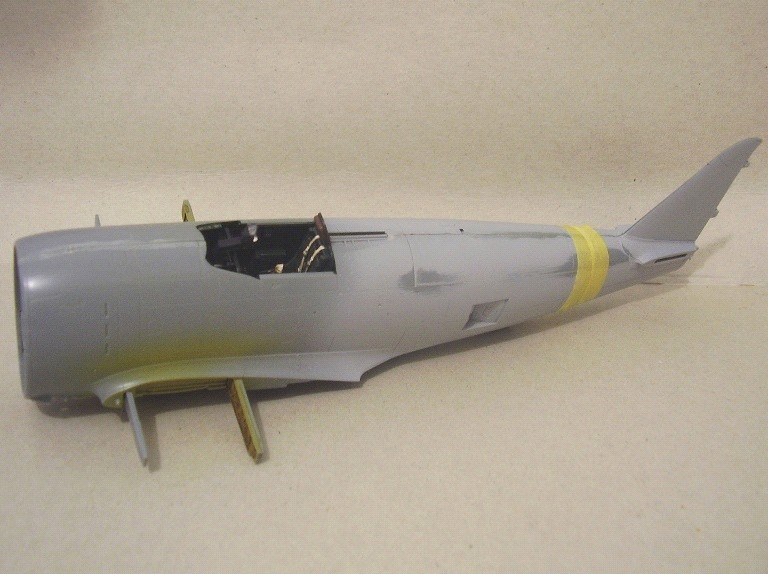 Fechando o cockpit
Uma vez montado o cockpit, fechei as duas metades da fuselagem e comecei a trabalhar no motor do avião: a pintura foi feita com tinta duco (alumínio) e tinta acrÍlica Decorfix (preto fosco). Apliquei o primer da Gunze (Mr. Surface), depois a tinta alumínio automotivo (duco) e escureci com tinta Acrilex Burnt Siena diluÍda em Água. O interior do capô do motor foi pintado em XF-4 "Yellow Green", com exceção da parte inferior, pintada em neutral gray. Optei por deixar as aletas do motor fechadas, mas pelo que pude ver em fotos, parece que podia ficar aberta ou fechada.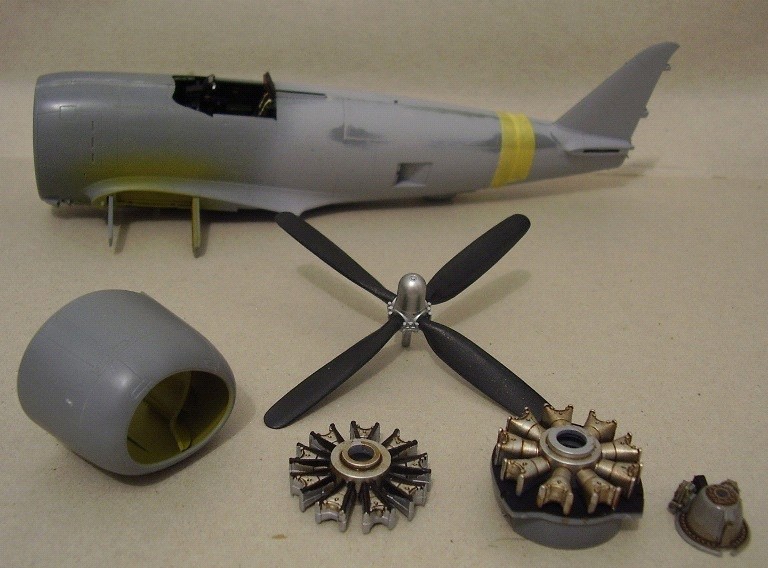 Pintura do motor
Outro dado importante, sobre a hélice: o spinner é alumínio, mas o cubo da hélice É pintado em neutral gray.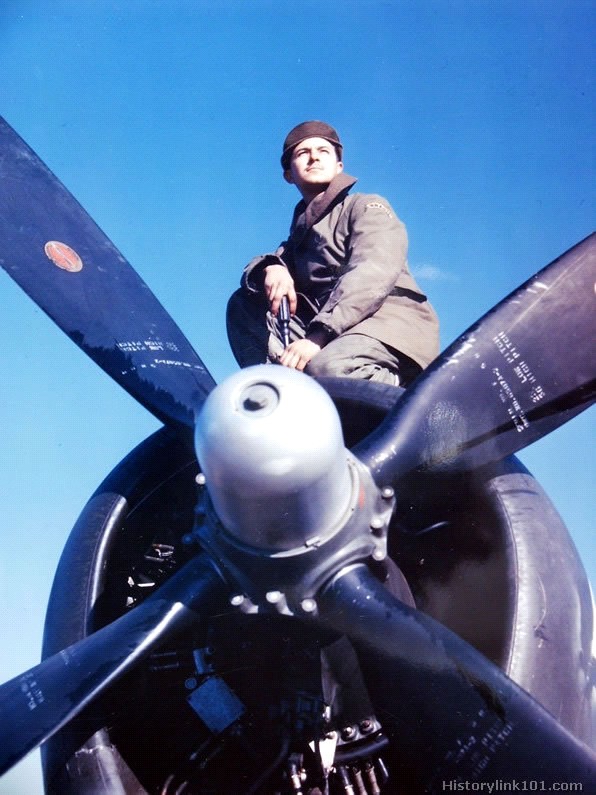 Cubo da hÉlice em neutral gray
Após juntar as asas à fuselagem e lixar as emendas, apliquei um primer (Mr Surface 1.000) sobre todo o kit, para conferir possíveis falhas persistentes na região das emendas. O leme, que estava separado, foi pintado com tintas Tamiya XF-3 Yellow e XF-5 Green.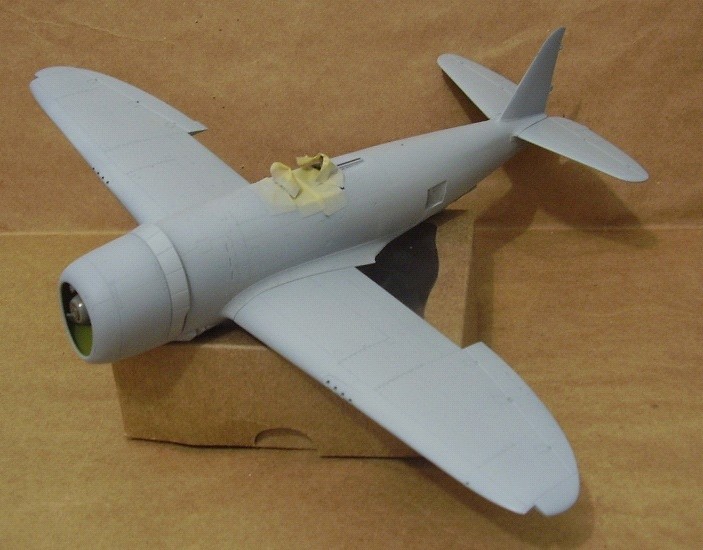 Primer Mr. Surface aplicado sobre o kit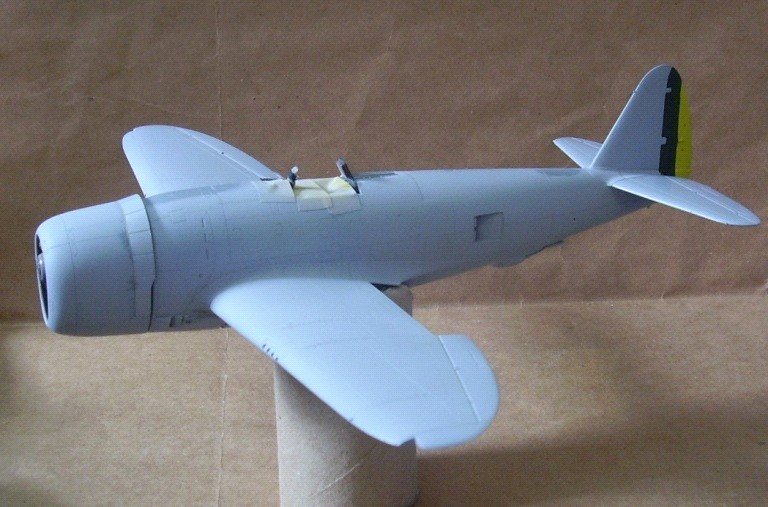 Leme pintado de verde e amarelo
Bem, após algum uso de putty e lixa, as emendas na junção das asas e da fuselagem sumiram. Mascarei então o canopi com fita Tamiya e instalei-o na posição, fixando com sola branca. Fiz então a pintura do interior dos frames: primeiro, aplica-se a cor do interior do cockpit. Para tal, apliquei a tinta já usada anteriormente no canopi, o verde escuro Tamiya: aplicado assim, esta cor aparecerá na parte interna dos frames do canopi, após a retirada da máscara. A seguir, apliquei uma demão de Mr. Surface, para selar esta pintura e permitir a aplicação de tinta automotiva, a qual será utilizada na camuflagem. Aplicar a tinta automotiva (duco) diretamente sobre a tinta acrílica Tamiya poderia dar chabú.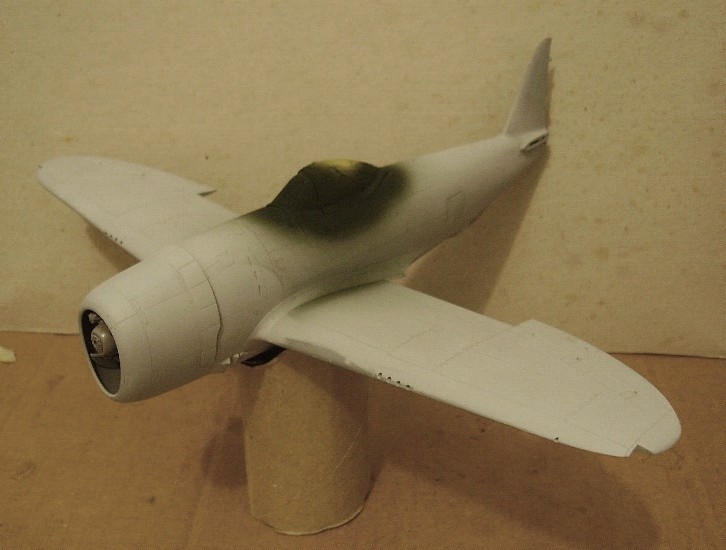 Pintura dos frames de verde escuro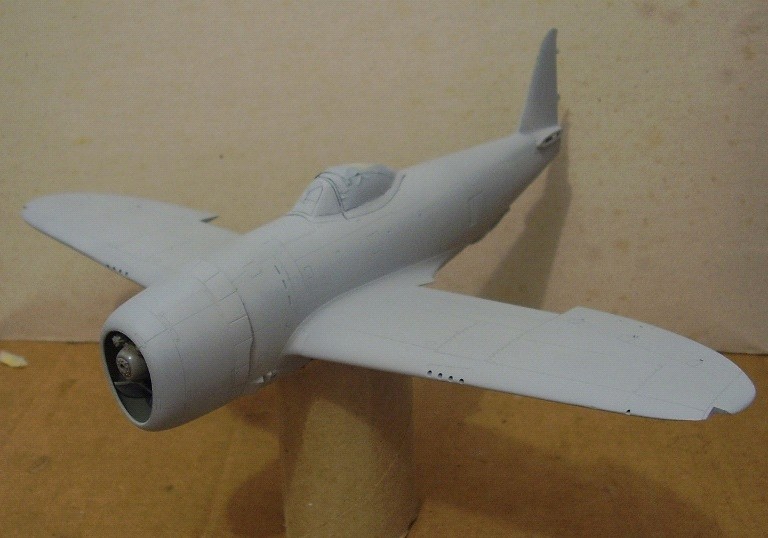 Aplicação de primer para selar a pintura interna do frame
Colei então os suportes das bombas sob as asas e apliquei o Neutral Gray (duco) nas superfÍcies inferiores e o Olive Drab (duco) nas superfÍcies superiores.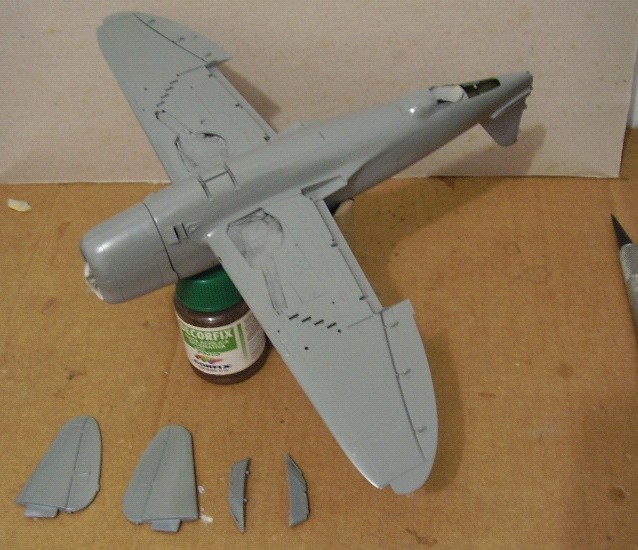 Neutral Gray nas superfÍcies inferiores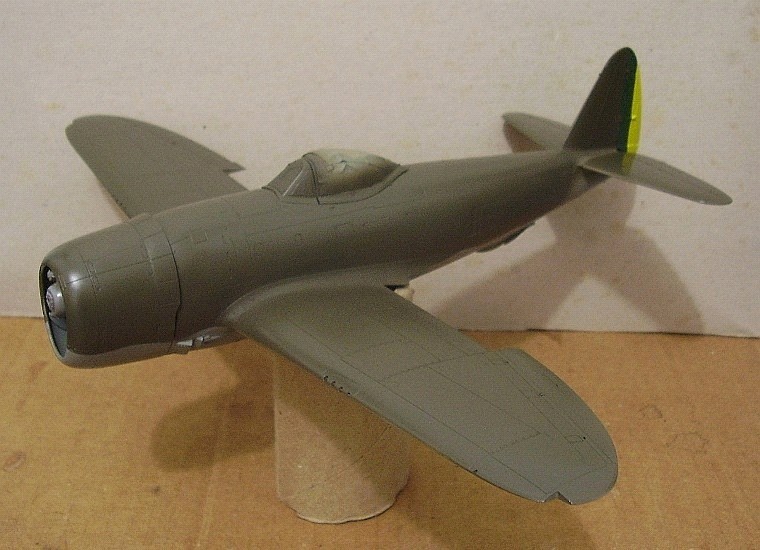 Olive Drab nas superfÍcies superiores
Aqui, uma explicação importante : o P-47D "D4" do Rui Moreira Lima sofreu um incidente no qual o Rui ejetou o canopi, pois achou que ia cair e se preparou para saltar. No fim, ele pousou e o avião foi enviado para reparos. Nestes reparos, instalou-se um novo canopi, cujos frames ficaram em alumínio natural (não foram pintados de olive drab) e a barbatana dorsal, que originalmente o P-47 do Rui não tinha. O mais comum É o pessoal fazer o kit representando o avião depois deste incidente, com a parte posterior do canopi em alumínio e a barbatana instalada.
Para mim, esta foi uma saída estratÉgica, pois não ia colocar barbatana neste kit e, após o incidente, além do canopi de frames NMF, o avião passou a ter a tal barbatana. Bem, todo Olive Drab, sem barbatana... e aos bombas pintadas na lateral? Quantas seriam, na Época em que o canopi do Rui saiu voando? Eis que surge a foto abaixo, da época do acidente: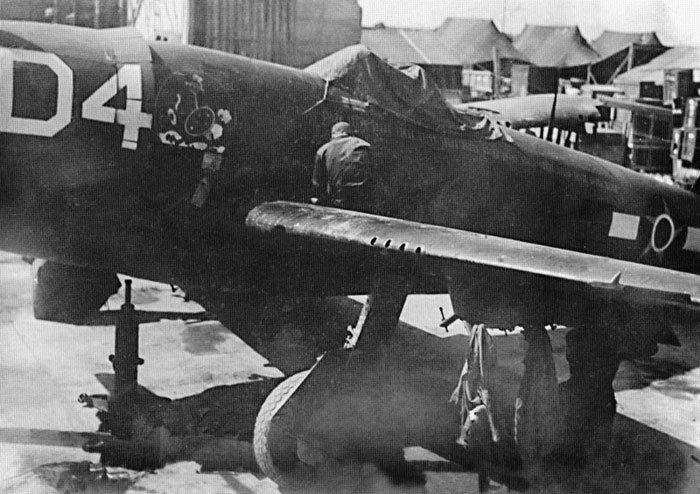 Foto do avião apÓs o pouso forÇado
Como dá para ver, já tinha muita bombinha ali.... e já tenho a referência que eu precisava!!! Então vamos em frente!
Após corrigir alguns pontos da camuflagem, a pintura está praticamente finalizada. Montei os flaps e pintei-os. Agora É deixar secar direitinho e, se tudo estiver ok, aplicar um verniz brilhante para depois aplicar os decais.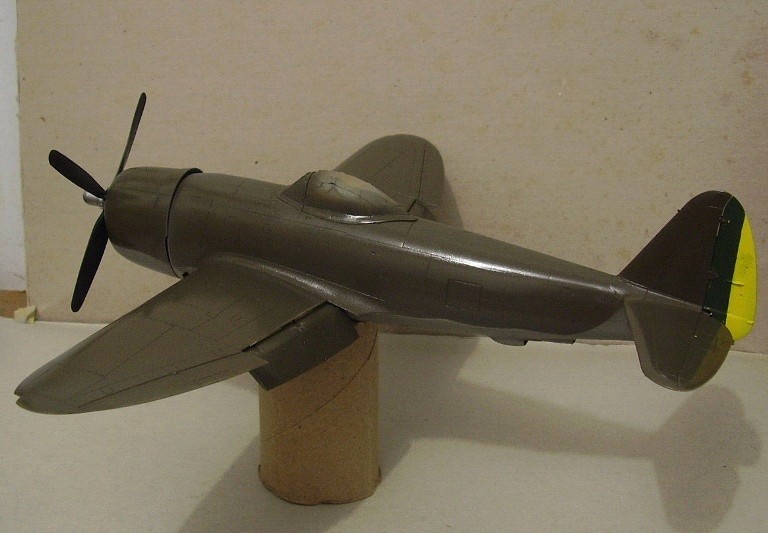 Kit após a aplicação do verniz brilhante
A aplicação do verniz brilhante sobre o avião é a última etapa antes de aplicar os decais. Costumo usar o Clear Gloss da Tamiya. Na foto, a hélice foi encaixada para compor o visual, ainda tem trabalho a ser feito nela (pintar de Neutral Gray o cubo e as pontas de amarelo).
Uma vez seco o verniz brilhante, apliquei os decais maiores e, a seguir, uma infinidade de decais pequenos, com as marcações, que vem com o kit.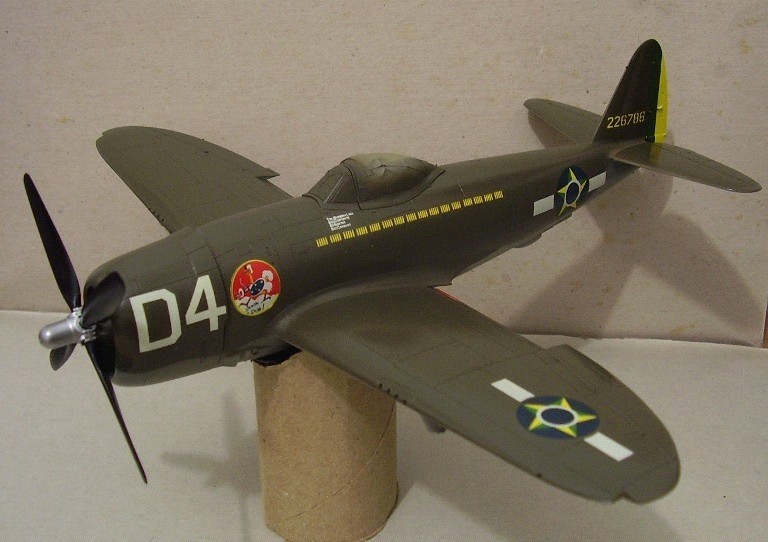 Decais maiores colocados
A seguir, fui montar o trem de pouso. Pelo que pude ver de uma foto de época, as rodas do "D4" tinham calotas, ao contrário dos outros aviões da esquadrilha.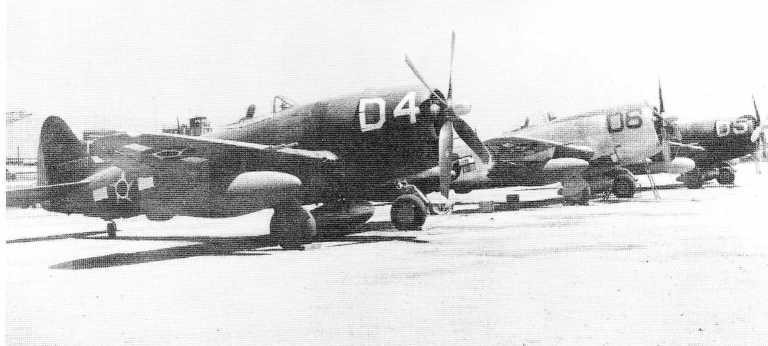 Foto do "D4". Observa-se a calota.
Também montei os lança-foguetes, as bombas e "emprestei" um tanque de 75 galões do meu P-51D Tamiya - veja, os tanques que vem no kit não são os que a FAB utilizou. Este do P-51D Tamiya serve perfeitamente!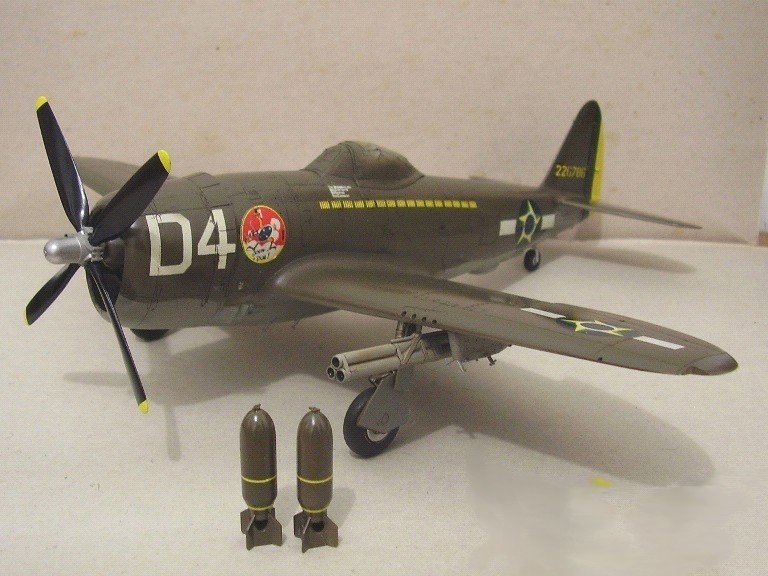 Lança-foguetes instalados, bombas pintadas.
Finalizada a colocação dos decais, parti para o envelhecimento do baixo relevo. Para tal, fiz um wash (aguada) com tinta Acrilex "Marrom queimado" escurecida com preto, visando escurecer as linhas de baixo relevo do bichinho. Também instalei o fio do hidráulico, colei os profundores e fixei as pernas do trem de pouso. Pintei o cubo da hélice de neutral gray e as pontas da hélice de amarelo e pintei as bombas, colocando os decais. Os lança-foguetes foram pintados em neutral gray e instalados (cuidado: É comum o pessoal achar que eles são pintados em Olive Drab, e não são. Tem um no Musal, e É cinza!).
Nesta etapa, colei o tanque ventral, as bombas, as portas da bequilha e bati um verniz fosco (Testors Dull Coat) sobre todo o kit. Depois disto tirei a mÁscara do canopi e ficou ótimo, sem manchas nas transparências (nem sempre é assim.... as vezes dá uma borrada, aí o jeito é remover a tinta e pintar de novo).
Tanque colado (na cor errada!)
Na fase final instalei as portas do trem de pouso, o tubo de pitot, e antena e as metralhadoras. Ah, falei com o Vazquez e ele aconselhou pintar tanque ventral em alumÍnio, o que fiz.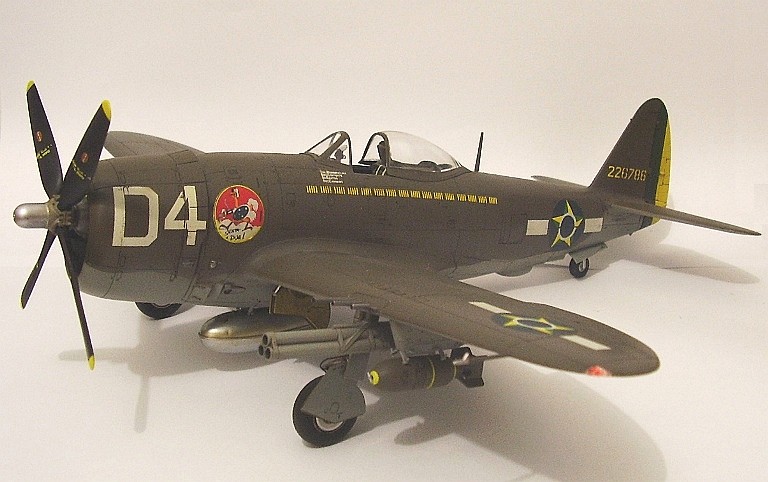 Quero agradecer a todos que participaram do meu tópico neste GB, foi muito legal ter vários P-47s do Senta a Pua sendo montados ao mesmo tempo. Agradecimentos especiais ao Vazquez, a quem recorri várias vezes com minhas dúvidas.
Sidney O. Pagotto Júnior